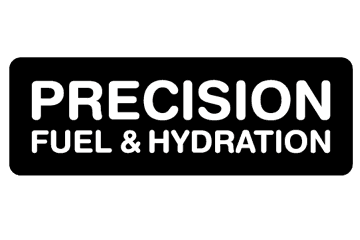 We are proud to announce that Precision Fuel & Hydration is the official fueling partner of the Swiss Alps 100.

Precision Fuel & Hydration help endurance athletes like you refine their hydration and fuelling strategies for race day. We'll be offering their PH 1000 low-calorie electrolyte drink (which are 2x stronger than most electrolyte drinks) at the aid stations on course at the Swiss Alps 100. And there will also be the Precision Fuel 30 gels, which each contain 30g of carbohydrate per serving, to help keep you fueled.

To prepare for your epic run, we'd strongly recommend using their tools and testing our their product range during your training sessions.
First, get a free, Swiss Alps 100 personalised race nutrition plan that includes a step by step guide on using what's available on course to stay fuelled and hydrated.
Next, take the free online Sweat Test to receive your personalised hydration strategy and product recommendations
Then work out how much carbohydrate you should be aiming to consume per hour during your event by using the Quick Carb Calculator
You can use the code SWISSALPS15 at the checkout to get 15% off your first order at www.precisionfuelandhydration.com so you can test out the products during your training sessions
And if you need help with refining your strategy, book a free one-to-one video consultation with a member of the Precision Hydration team and they'll be happy to answer your questions.
Every aid station at the Swiss Alps 100 will have the basic food/drinks you can expect on any ultra marathon like Red Bull, Coke, Ice-Tea, bananas, oranges, prezels, chips, M+M's, cookies, and so on. We will also have gels available at the Blitzingen and Mühlebach aid station.
On the following aid stations you can also expect the following extra items:
Riederfurka: Hot Minestrone vegetarian soup
Belalp: Vegetarian pasta
Gletscherstube: Hot vegetarian bouillon
Bellwald: Hot Dogs
Blitzingen: Hot Minestrone vegetarian soup and Zipa Zeer Alcohol-free IPA beer
Reckingen: Vegetarian pasta and hot vegetarian bouillon
Chäserstatt: hot vegetarian food (DBT)
Binn: Canarian wrinkled potatoes with salt crust (vegetarian)
Breithorn: Hot vegetarian bouillon
Rosswald: Rice (vegetarian or meat)
Grengiols: Vegetarian pasta
Mühlebach: Hot Minestrone vegetarian soup